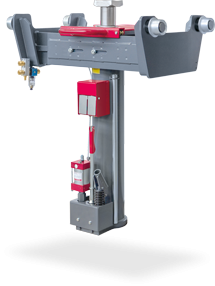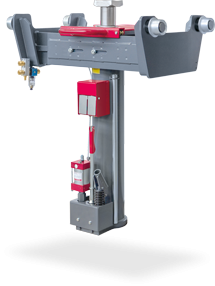 J150.8F - 15T
Intuitive operation includes a quick lift via push button, additional load lift by means of an air motor, a fine lift with a pump rod and a lowering via hand lever.
The extra-long cylinder guide ensures that lateral forces can be absorbed, even when loads are outside the ­center.
2 layer coating for perfect ­corrosion protection.
Longevity - Piston rod and pump piston are hard-chrome plated against corrosion and wear.
Anti-rust prevention - During each lifting and lowering movement piston rod and inner cylinder wall are moistened with oil.
The forced return allows a quick return of the lifting ram with and without load to the lowest ­position.
Needle bearing mounted undercarriage castors with grease nipple.
| | |
| --- | --- |
| | The piston rod is slightly wetted with oil to protect against corrosion. |
| | |
| --- | --- |
| | Undercarriage castors are covered against damage. |
| | | |
| --- | --- | --- |
|   | Capacity | 15t |
|   | Stroke | 800 mm |
|   | Mounting hole | 55 mm |
| A | Undercarriage width | 800-1100 mm |
| B | Undercarriage height | 285 mm |
|   | Operating pressure | 10 bar |
|   | Weight | 285 kg |
|   | Piston rod diameter | 80 mm |

Perfect positionning under the vehicle
OPTIONS
SJA1 - 1.000 kg

Angular adjustment +/- 12°.
Includes 2 belts
| | |
| --- | --- |
| | SJA2 - 15T |
| | |
| --- | --- |
| | SJA3 - 15T |
SJA4 - 3.200 kg

Traverse and pads for transporters
SJA5

Set of the pads

SJA6

Condensate separator