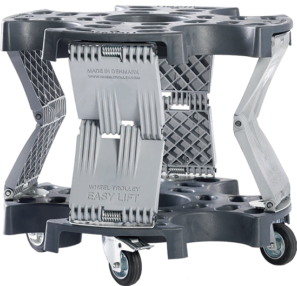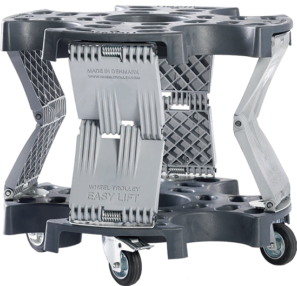 GR20 WHEEL TROLLEY EASY LIFT
AUTOMATIC ADJUSTMENT OF THE HEIGHT IN RELATION TO THE LOAD
THE MOST ERGONOMIC WHEEL TROLLEY TO WORK WITH!
Wheel Trolley Easy Lift is our brand new invention. It is the most ergonomic variant within our range of Wheel Trolleys.
It is an elevated Wheel Trolley, which, with the help of springs,
raises and lowers in relation to load. A brilliant feature, when you wish to save yourself for heavy lifting and relieve knees and back.
The trolley is intended for 4 wheels and may be used for,
amongst others, the mounting and dismounting of wheels,
at tyre racks and as an ergonomically correct transfer to the tyre changing machine.
Wheel Trolley Easy Lift can - with just a small investment –
improve the work environment considerably when handling tyres
GOOD ERGONOMICS FOR A SMALL INVESTMENT
• Adjusts height in relation to the load
• Designed for 4 wheels and may be used for, amongst others, the mounting/dismounting of wheels
• Supplied with wheel brakes on 2 casters
• Improves ergonomics when handling tyres
• Stackable up to 4 pcs, hereby the 2 lower ones fold together