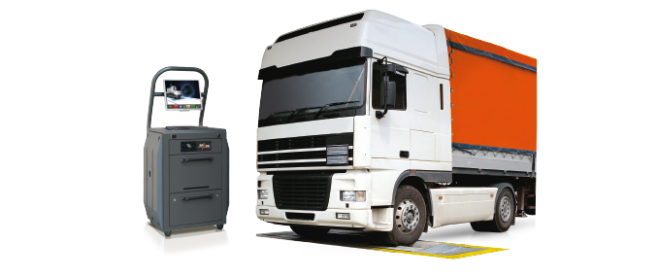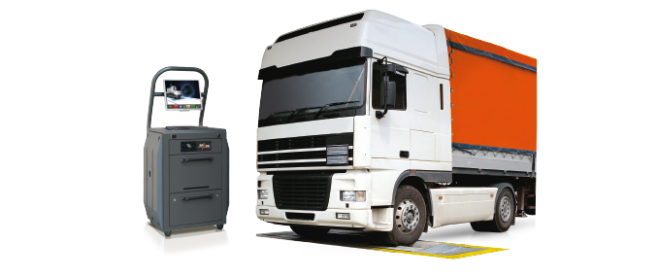 Features
Control Unit
The control unit represents the heart of the system. All the working units are linked to it.
Thanks to the user interface, the unit can be managed either by infra-red remote control or by the control panel keyboard. Workshop heading, configuration and test modes (automatic, manual test,….) can also be entered from the keyboard. The data received from the testing equipment are acquired by a microprocessor-controlled electronic circuit board with A/D converter. The data are then processed by a computer before being displayed on a monitor and issued in graphic output form by means of a printer.
The management software is extremely user friendly and graphics are very immediate and clear.
Thanks to the flexibility of the software, diverse operating mode options are available, including:
"Manual" testing, with selection and performance of tests directly by remote  control with repeat option (ideal for diagnosis)
"Automatic" testing, with pre-selected cycle without remote control operation (ideal for controlling)
"Ministerial" operating mode testing, in conformity with legally prescribed test     procedures in the various countries
Thank to the modular structure of the software, further options include the control of links to other components like, for instance, opacimeters, exhaust fume analysers, headlight testers, for linking outputs to videos and graphics.
Roller brake tester (for models PFB100 - PFB150 - PFB200 - PFB715)
The sturdy structure, sized for a maximum axle load and the sophisticated system of extensometer-type sensors ensure high measurement precision and excellent result reproduction. The large-size rollers with innovative silica-granule added resin coating ensure perfect grip in all test conditions and safeguard tyre wear.
These units are suitable for testing:
Single wheel drag
Brake ovality (out-of-roundness) on single wheels and percentage difference
Maximum brake force on single wheel, on axle and total
Maximum percentage imbalance of brake force
Maximum percentage imbalance (dynamic imbalance)
Total percentage efficiency of braking system
Percentage efficiency of handbrake
Braking capacity split between front and rear axles
Axle weight (in complete weighing system configuration)
Pedal pressure
These measurements can be repeated on each axle of the vehicle.