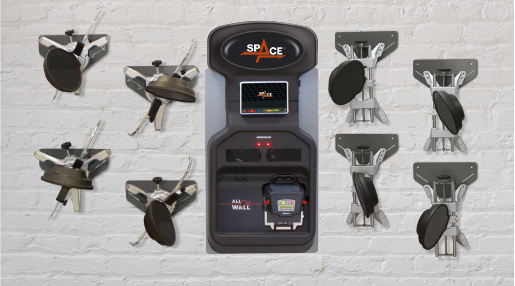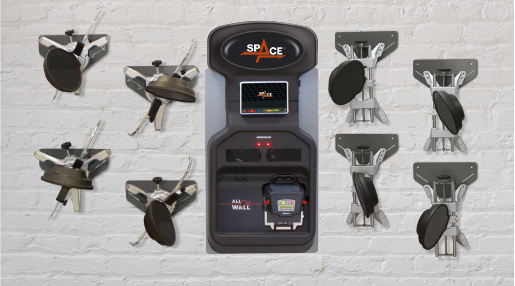 The AllOnWall series allows you to have all that is necessary for performing wheel alignment operations to be placed on a convenient wall-mounted panel, in this way freeing up useful space in the workshop.
All alignment activities can be controlled from a 10" tablet that the operator can carry with him or place on the lifter during adjustment thanks to the built-in magnets.
The aligner boasts a well-tested measuring head technology with HD cameras and Real 3D target that is fully wireless with Bluetooth transmission.
A: Charging stations for two batteries fitted with magnets.
B: Tablet with 10" 800 x 1280 multi-touch display complete with adhesive magnets.Rechargeable on the panel.
C: 3D measuring heads storage housing equipped with rubber impact-resistant matting.
D: The iconic Space logo comes to life thanks to a LED backlit panel.
Features
| | |
| --- | --- |
| | 3-point clamps support with handy hooks. |
| | 4-point clamps support with handy hooks. |
| | Built-in head with rubber protection and handle with plastic protection. |
| | Battery with quick release system. |
| | Quick connection with pivoting coupling system to prevent damage in case of obstacles while descending. |
| | The charging stations are fitted with magnets so that the batteries can be positioned precisely while always indicating proper charging operation also due to the LED indicator. |
Tablet features:
• Dust-and water-resistant (IP52)
• Resistant to falls up to 76 cm
• 64 GB memory
• Display 800 x 1280
• Complete with adhesive magnets
• Rounded edges to ensure greater sturdiness
• Camera front 2 MP + camera rear 5 MP
• Weighs less than 700 g