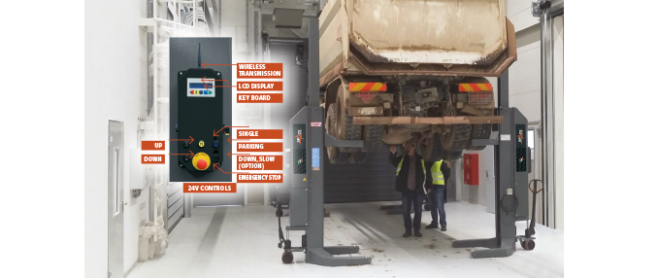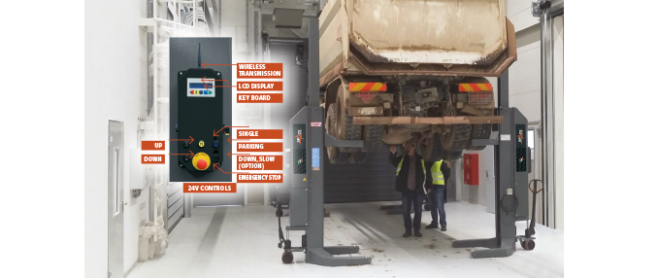 Features
Control panel available on each column
All columns are identical
Configuration sets: 4-6-8 columns
Mechanical locking system/parking
Wireless 2.4 GHz  communication among columns
Automatic selection of  transmission channel with display indication
Operation Modes
All - Simultaneous operation of all columns.
Group - Simultaneous operation of selected pairs of columns.
Single - Single column operation.
Synchronization
Synchronization at a height difference of 30 mm. Control board according to ISO standards 13849.
Batteries
2 batteries in each column, 12V 100 A/h, gel type, maintenance-free. 20 lifting cycles with full load.
Battery charge leds:
yellow led = battery charging recommended, 5 cycles still possible
red led = battery charging is required, 1 lowering cycle still possible
Battery Charger
One battery charger in each column.
10 meter charging cable.
Battery charger works as such, it is not for power supply.
Batteries can be charged  during operation.
Display Information
Operation modes (all, group, single)
Height of columns
Battery charge condition
Diagnostic / maintenance
Number of column in a set