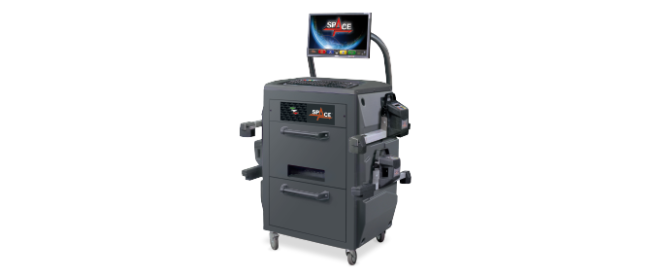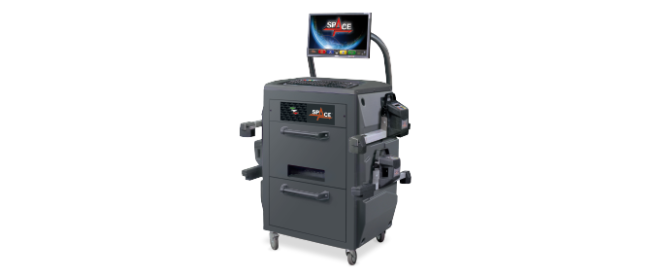 Features
Data Bluetooth transmission allows maximum mobility between different working positions. The aligner is equipped with a powerful PC, a A4 printer and an useful compartment for wheel clamps deposit.
Quick entering by model or V.I.N. number
Summary and comparison of diagnosis/repair values on a single screen
The keyboard with remote-control function provides total "on vehicle" operation
Synoptic LED signal repeaters on each measuring head
Software operating under Windows that allows the management of:
- manufacturer data bank containing more than 90.000 vehicles with the possibility to enter new vehicles
- data bank of vehicles stored with search by customer's name or registration number
3D INFO
The movie program, through interactive 3D graphics, displays the sequence of the operations necessary for a correct adjustment of the vehicle. This program is also accessible during adjustment procedures.
QUICK RUN OUT
It is possible to measure wheel run out by moving the vehicle by only 30° (quick compensation in a little space) without lifting the vehicle.
The quick measurement of axle set back, wheelbase and track-width, may highlight any errors in the vehicles body and chassis symmetry.
A special Spoiler Program is automatically activated, through a simplified practical procedure, to perform the measurements on sport and tuned car bodies.
The steering procedure is carried out electronically, through the CCD sensors, so that the caster and king pin are obtained with great precision. The movement of the wheels on the monitor follows the procedure that is being effected.
Standard equipment:
- 1 control unit complete with PC, monitor, key-board, printer and battery-charger
- 2 front measuring heads
- 2 rear measuring heads
- 1 brake pedal depressor
- 1 steering wheel lock
- Instruction manual