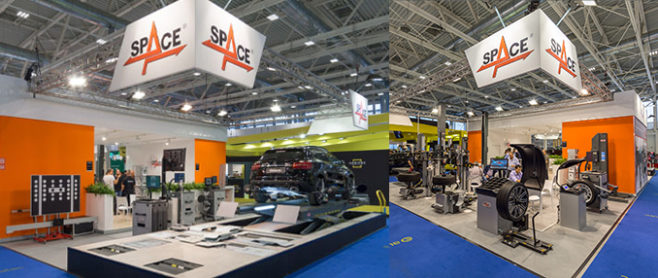 The new models and innovations introduced during the AUTOPROMOTEC Show proved a great success confirming Space as world-leading company in terms of R&D and product innovation!
Below some of the main new products and developments, shown during the Show and introduced in our range and immediately available on the current Edition 05/2019 of our Export Price List.
Teq-Link connectivity solution, making it possible to reach our equipment from anywhere inside your workshop. Benefits:
• Statistics
• Check in real time the state of work-stations
• Data of tests centralized
• Activity planning
• Management of work queues
• Predictive maintenance
• Real time diagnostics (lifting equipment only)
CHECK INFO SPACE 17/2019 for details
| | |
| --- | --- |
| | With VARRT004LANE, it is now possible to use the modular SPRT004 wall-mounted and space-saver control unit for a full car test lane, including brake tester, suspension and side-slip tester. |
Proceeding the path of integration with ADAS calibration systems, the SPACE car wheel aligners (both 3D and CCD) are now compatible with Texa ADAS calibration kits and so it is possible to align the vehicle in front of the panel in a precise and quick way through our alignment systems.
We are already compatible with Autel ADAS calibration systems too.
| | |
| --- | --- |
| | New ER238RFM narrow chassis wheel balancer with automatic spin when cover is lowered, automatic stop at outer unbalance position and pedal brake |
New PD202/8 and PD203/8 hydraulic play detectors for vehicles above 3.5 ton compliant to the most recent EU standard.
+
New SQ505L and SQ655L 4-post lifts for wheel alignment with built-in CE compliant 8-movement play detector for vehicles above 3.5 ton
Feel free to contact us for any price proposal and technical clarification.