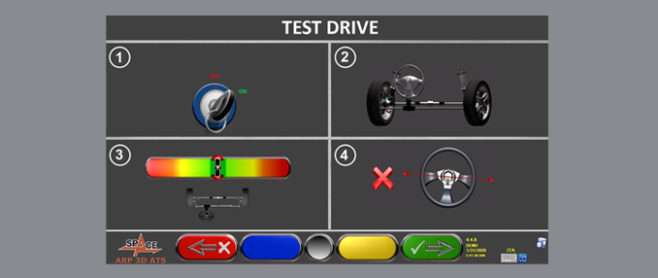 We are pleased to inform you about a new interesting function introduced in our complete car wheel alignment range (3D and CCD):
VIRTUAL DRIVE TEST
In order to check the steering wheel position, it will be enough to perform the "virtual" drive test with clamps and measuring heads mounted on the wheels and engine turned-on.
At the end of the adjustment, following the above 4 simple steps, it is now possible to check how the steering will look when driving:
1. Start the engine
2. Steer left and right a couple of times
3. Align the steering wheel to the bar in the screen
4. Visually check if the steering wheel is straight
The above new option is available with the latest software release 4.4.8 available for free download on our usual supports and will be standard on all the new machines.
SPACE wheel alignment range always alongside the workshop!