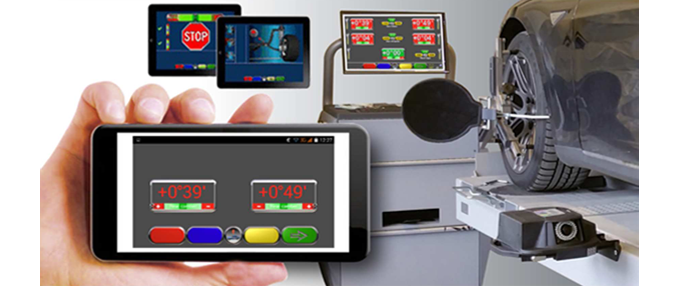 ALIGNMENT CONNECT is now available!
Many of you, visiting our stand at Autopromotec Show in Bologna, assisted to a demo of our new APP for wheel aligners, allowing remote control and indicator  and immediately it was a success!
This smart APP allows to reproduce on your smartphone and/or tablet what appears on the monitor of the wheel aligner and to operate and interact on the machine software directly through your electronic devices.
It is the ideal solution for a more convenient wheel alignment operation and adjustment of the vehicles angles, even if the monitor is far and/or at the moment non visible from your working position, confirming one more time the flexibility and efficiency of our wheel alignment systems.
ALIGNMENT CONNECT is compatible with all the Space wheel aligners from WD/WS series (both for cars and trucks) and SPHERE 3D series. New, on stock and on-service machines allows to install the new APP (minimum software update is 4.1.3).
ALIGNMENT CONNECT is available for download on Play Store for Android systems or on App Store for iOS systems and a free demo modality of 60 days is allowed. Expiring the 60 days, you can choose to purchase the use right of the app by purchasing the Token file (code STDA141). A Wi-Fi Access Point, that you can decide to purchase from us (code STDA142) or procure locally, should connect the wheel aligner to the mobile device.
You can connect an unlimited number of devices (smartphones and/or tablets) to your wheel aligner.
Now…you can CONNECT!