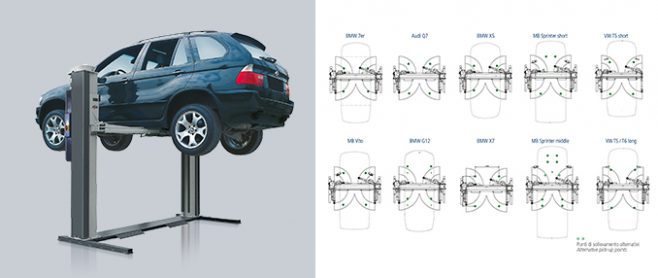 We want to drive your attention to an interesting new-entry in our 2-post lift range:
SDC2356LC3K
Electro-mechanical 2-post lift.
Capacity 3500 kg.
Standard platform base
Chain transmission
Distance between posts 2650 mm.
Asymmetric 3-stage short arms 600/1100 mm and 2-stage long arms 870/1340 mm for passenger cars and medium-size vans lifting.
"K" arms for quick drop-in pad extensions.
Pick-up height 100 mm
Herebelow the relevant lift layout and some examples of its chargeability showing it can lift from short wheelbase cars to medium-size vans like the VW Transporter 5, long wheelbase.
The new SDC2356LC3K model is an interesting option, as it is positioned between the "first-price" models and the models expressly designed for vans and commercial vehicles.
We remain available to provide any further information and price proposal.