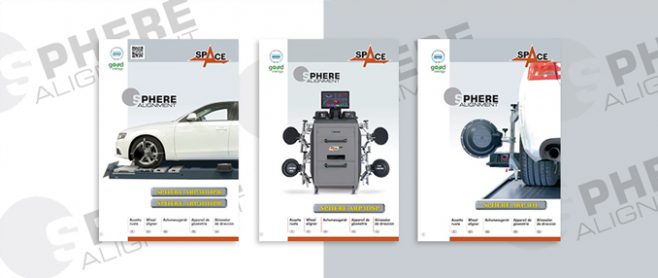 We are pleased to inform you that new product catalogues are now available for our new range of SPHERE 3D tower-free wheel alignment systems.
The new brochures are available for download now!
The new designed range offers you and your customers even more features and flexibility at competitive prices.
4 versions are now available:
ARP3DHPR
New top-range model

---
ARP3DHP.B
Space best seller (model confirmed without any modifications)

---
ARP3DSP
New mid-range models with closed cabinet

---
ARP3DL
New entry-level model always allowing to skip the run-out compensation procedure

---
All the four SPHERE series alignment versions (HPR, HP, SP and L) are now:
Wireless: totally wireless installation and wireless communication between the computer and the lift / sensor heads
Roll-free: now also the new entry level Light version can be equipped with optional grabber arms clamps (4 point or 3 point) to avoid rolling compensation
Tower-free: much smaller footprint for the alignment bay, compared to any other 3D aligner available today on the market.
Portable: the aligner can be used in multiple bays in the shop, even on the floor in the reception area, thanks to the portable cameras and the smartphone/tablet control possibility
Fast-check-ready: built-in fast check software mode, for a quick diagnosis, anywhere in the shop
Connected: smartphone/tablet control, thanks to optional ALIGNMENT CONNECT app (STDA141, standard with ARP3DHPR)
PROFILER-ready: possibility to integrate our SPWS103 tyre thread depth reading system with the alignment computer/software, limited additional space and investment needed
Feel free to contact us for any price proposal and technical clarification in order to take advantage of the new competitive and complete Sphere 3D wheel alignment range!