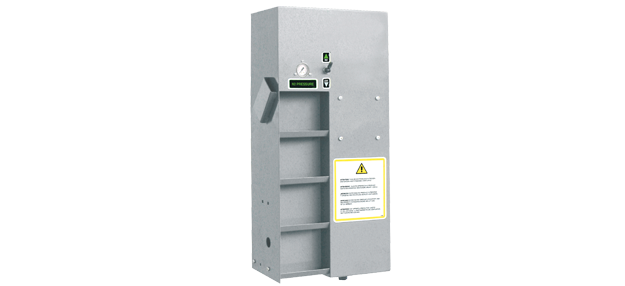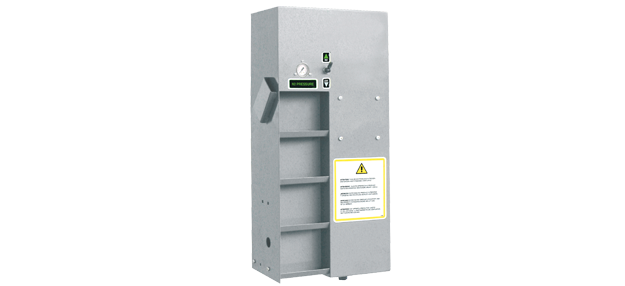 SNG 3000 l/h
The nitrogen generator SNG requires only compressed air for functioning.
It produces a nitrogen-enriched mixture at low costs and it allows the amortization of the device in a short time (while the cost of nitrogen cylinders is high).
SNG CW

Wall installation

Nitrogen
 
Air

Nitrogen generator for car tyres
SNG CF

Floor type

SNG A5 (option)

Inflation gauge
Tyre inflation with a nitrogen-enriched gaseous mixture enables:
the reduction of tyre or inner tube overheating and the avoidance of possible blasts;
the avoidance of oxidation and rust on the rim and of tyre cracks or loss of elasticity;
improvement of tyre performance, while keeping tyre pressure unchanged in time, resulting therefore in a reduced consumption of tread and fuel.
OPTIONS
SNG A1

Simple and compact device to check the percentage of nitrogen contained in the air.
Warning: tyres must be inflated in safety cages.
SNG T 10000 - 12000 l/h
Nitrogen generator for car and truck tyres
SNG T - TOWER

Nitrogen generator for car and truck tyres. The ideal generator for the tyre specialist: the innovative design combines small dimensions with a large production capacity.

SNG THD - HEAVY DUTY

Heavy duty nitrogen generator for car and truck tyres (20-24.000 l / h).
In the SNG THD the production capacity is double.
Capacity: 15 - 20 wheels/hour.
OPTIONS
SNG A7

Portable tank
SNG TM - MOBILE

It can be mounted either vertically or horizontally simply by rotating the external pre-filters. Compact size ideal for use on a vehicle, such as in a van for on-the-road service.
OPTIONS
SNG A4 (option for SNG TM)

If a combined use of SNG TM is required (workshop + van), the convenient rapid mounting kit SNG A4 is available: this consists of a set of brackets that allow the device to be easily mounted and removed from its operating position.