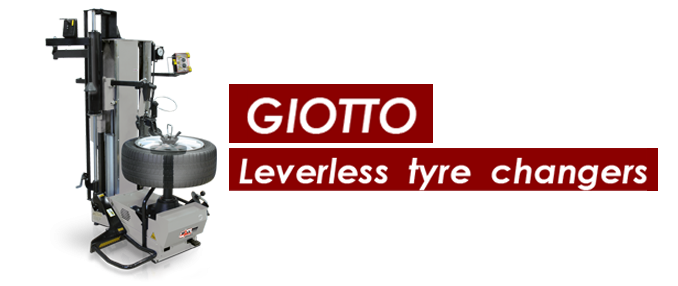 The Leverless tyre changers became an essential tool for high volume tyre shops.
GIOTTO Leverless tyre changers - compact, versatile, extremely fast and with an unbeatable price/performance ratio - are the answer to the growing needs and expectations of modern tyre shops.
 

Intuitive Controls

Synchro Rollers - The bead-breaking is performed by means of two rollers with a synchronized movement, assuring a quick and precise operation.

Easy demounting - The tool enters between bead and rim. Levering on the rim, the tool pulls up the bead, minimising the stress of the tyre. The bead is progressively pulled-out.

Adjustable locking - 3-position extendable base

Reverse Wheel Fast Locking - Central rim locking system, suitable also for reverse rims. The stress is minimal thanks to the special plate on which the wheel lays. The plate is floating, therefore offering a self-locking mechanism.

Invemotor - The electrical motor is equipped with an exclusive and innovative inverter which allows to regulate the chucking table rotation speed by pressing the pedal and slows down the rotation speed as the stress on the bead increases (to avoid any damage to the tyre).
An interesting and useful video of GIOTTO tyre changers is available by using the QR on the relevant leaflet or on the dedicated section of our website www.spacetest.com at the following link:
https://www.spacetest.com/en/products/tyre-changers/car-tyre-changers/leverless-car-tyre-changers/ga560-30-giotto/